Our Techniques
---
We specialize in nuisance wildlife control. This is the field of solving conflicts between people, property and wild animals. From home inspections to wildlife trapping, attic cleanups, preventative repairs and more, we solve critter problems with professional expertise. Most of the wildlife removal methods used involve the use of various types of traps (primarily cage style) and proprietary trapping techniques. There are a few situations where we are able to remove the unwanted wildlife without having to trap at all.
For repairs, we typically use painted sheet metal, fill fabrics (stainless steel) and caulk.
For barriers to keep out wildlife from entering underneath buildings, decks, sheds and gazebos, we install a heavy gauge galvanized wire mesh.  To further accent the aesthetics of the surroundings, the mesh is coated with a black vinyl. This will also add many years to life of the material, preventing any corrosion whatsoever.
Barrier Installation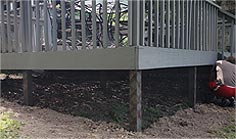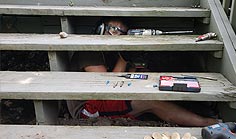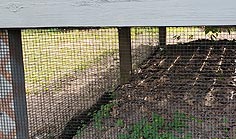 What happens to the animals after you catch them?
The Ohio Division of Wildlife requires raccoons, skunks and opossum to be euthanized, due to their high risk of carrying rabies. Others, not mentioned, are also usually euthanized due to the difficulties involved with relocation.
Why can't animals be relocated?
Some animals can, but studies have shown that many are territorial, often causing the released animal to travel miles before it settles down. Animals will fight one another of the same species creating more stress and potentially spreading more disease. The relocated animal could also become someone else's problem. Wildlife biologists have to study a potential release site very thoroughly before it is considered acceptable for releasing a new animal into the habitat. Some animals will return to their capture site anyway, depending on the distance.
It is illegal to relocate animals to the Metroparks.
Ohio Laws on Trapping & Relocation ~ read the laws before buying your own trap
Raccoon, skunk, opossum, beaver, coyote and fox cannot be relocated, period.
For wildlife that can be relocated, it is illegal to do so on public or private property without the permission of the landowner.
For additional information, look up the Ohio Administrative Code, 1501:31-15-03 Nuisance wild animal control.